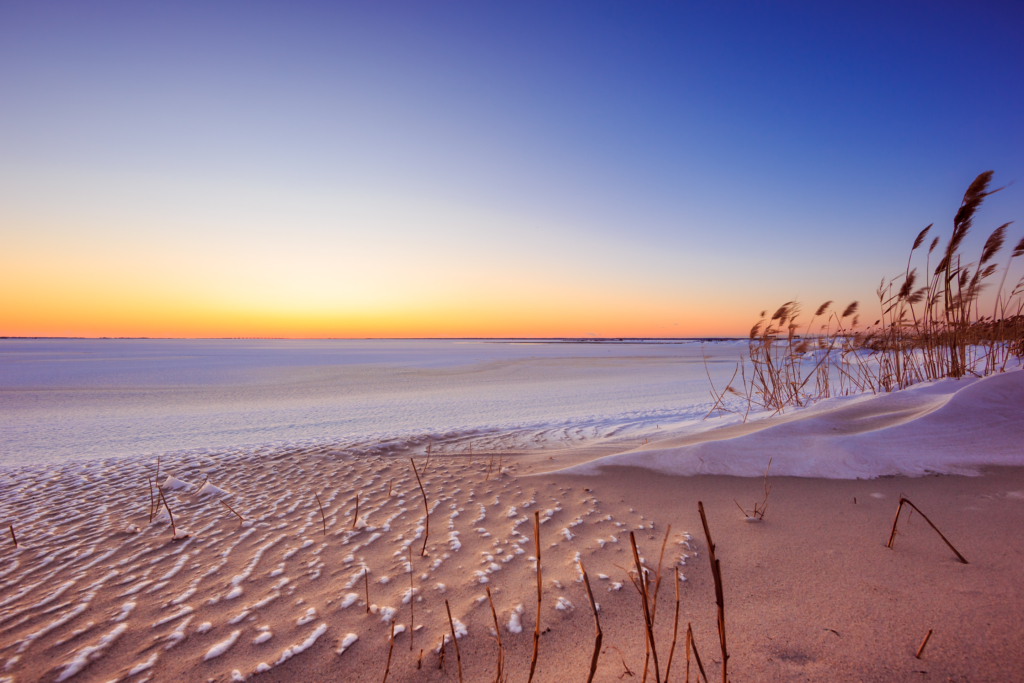 Harvey Cedars locked in ice. A beach paradise locked and bound in frozen bonds of wind driven snow, ice and unstoppable cold. The arctic has found its way south and wrought with it a landscape better tuned to penguins.
Trudging through Harvey Cedars Sunset Park I felt myself alternating discomfort and awe. Foremost was the wonderment. I strode incredulous among magnificent shapes carved by the master hand of wind driven snow. Three to six foot mounds of stratified snow dunes in all directions. Features that would look more at home marking the desert sands. The juxtaposition made more striking contrasted against wide swaths of grass and stone blown free of any trace of snow. This is mind-boggling considering the foot plus that dropped up and down the New Jersey coast less than 24 hours ago. As the snow was busying itself building mesmerizing drifts it was leaving whole swathes of park untouched. Never before have my eyes seen its equal.
Enhancing the displaced winter landscape was the transformation of Barnegat Bay. This familiar waterway left frozen solid and topped with reticulated patterns stretching to the horizon. Any vestige of the summer paradise fell away as it bent the knee before the reign of ice.
Through my wonder a crippling west wind carrying biting cold air tested my limits. Setting up to shoot headfirst into 20 mph sustained winds posed a threat to exposed skin. Despite my layers and heavy dress I struggled for comfort. In a battle of diminishing returns against a relentless enemy I made a few dozen exposures over span of 45 minutes. I will share one or two more photographs in the coming days. In the meantime I am off to thaw a replay the magic frozen before me.
Interested in buying? Purchase