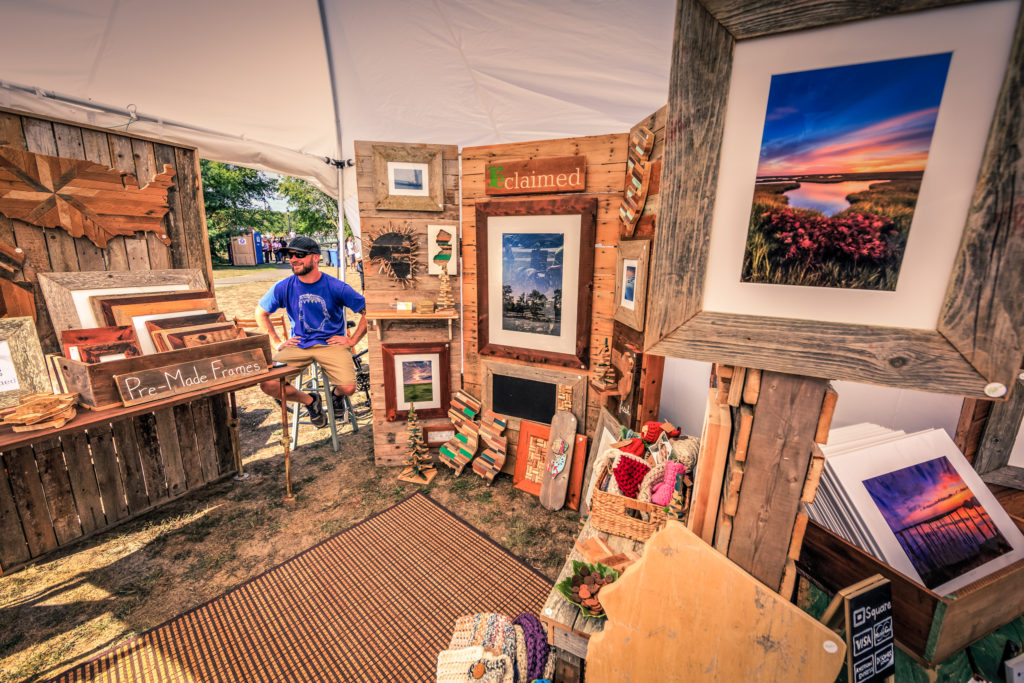 Your day breaks
It's a Saturday morning in September and it's early. Somewhere in a second floor bedroom a card carrying night owl wakes before his alarm. Bare feet meet carpet and nearsighted eyes blur a darkened window—the sun's not even a thing yet. Replacing the usual reflexive denial of the it's time to wake up reality, a slow burn of anxious excitement stokes in the pit of an unfed stomach that's a touch too nervous to fill. To the showers! Fast forward a soapy cleansing and a final car load and an area man cruises eastbound on a quiet Route 72. As Route 9 approaches and the third person narrative begins to wane, my gaze moves left to eye a sea of tents just ashore of Manahawkin Lake Park. A sobering whoa.
Quickly off the Route 9 spur that feeds onto 9 North reality unmistakably sets in. It's about 15 minutes to 8:00 a.m. and the park is jumping. There's no turning back. Traffic is already slow and a morass of Makers are fabricating their shoppes in advance of what already seemed a day of great import. Almost immediately I spotted Jeff Ruemeli pulling along pottery equipment in a Radio Flyer wagon. Somehow the kids are gonna be all right.
From there it was a whirlwind. A 90 minute set up. A 15 minute pep talk. A group photo and bang, 10:00 a.m. and time for the show. What came next was eight incredible hours of kind folk, beautiful creations, and an amazing tapestry for creatives to show off their wares. The weather—a warm 80 degrees with partly cloudy skies—could not have been better, and the crowd could not have been more engaged. My only regret was not having a spare moment to slip away from my tent to spend some proper time taking in the totality of the event. The attention to detail, the thought, the effort; the end result of all the blood, sweat, and tears was a sight to behold—even if I only caught glimpses through a bustling periphery. I would have loved nothing more than to visit all the Makers to see their fine works firsthand. Everything—and I mean everything—was first rate. The MakeShift Union crushed it.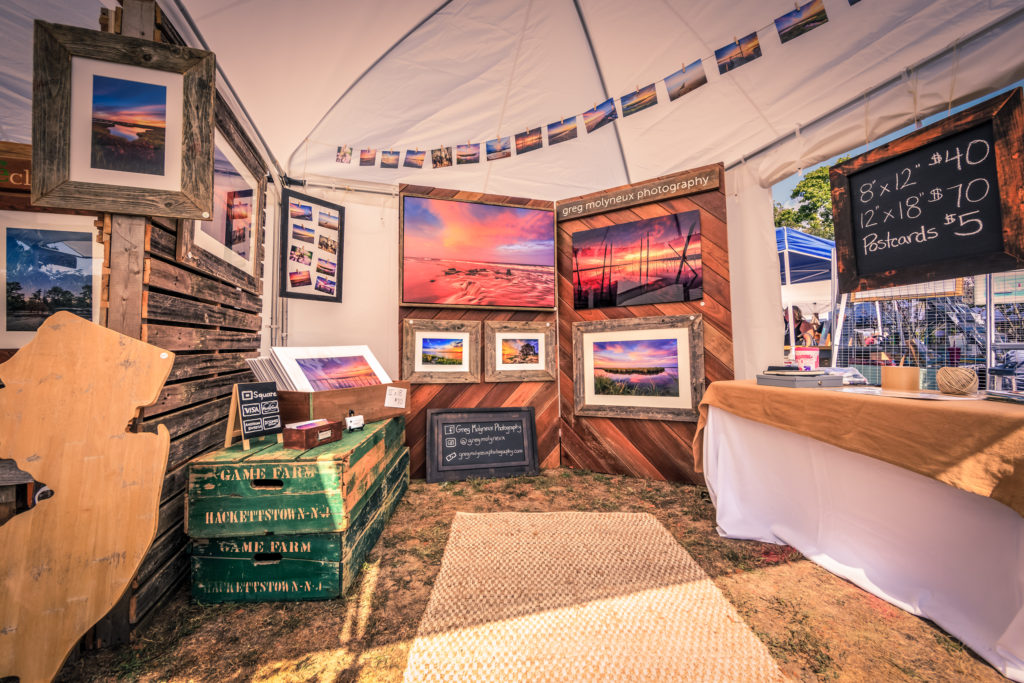 I have people to thank
I have been fortunate to participate in several events since picking up the camera back in 2012. First breaking the ice with the Summer Art Opener in June of 2014; next displaying my work at the Little Egg Harbor public library in October 2015; and for most of 2016 showing my work in some capacity or another on the walls of Long Beach Island Foundation of the Arts and Sciences. Humble and grateful for the opportunities afforded to me, my cup overflowed when I was welcomed into the Makers' fold and granted juried access to the second annual Makers Festival at Manahawkin Lake Park. It all went down Saturday, September 17, and everything about the day was perfect.
I imagine I'm not alone in the mad dash of preparation in the weeks leading up to Saturday's big day. Without a doubt my fellow Makers were torching all kinds of midnight flammable goods striving toward the attention to detail that only a perfectionist's compulsive mind can mandate. While the hours were long and the eyes were weary, I would have absolutely been nowhere without the outstanding work of Ben Wurst of Reclaimed LLC and my good friend and fellow booth designer, Jennifer Carr. Ben worked dutifully on my behalf. Sacrificing his own Makers Fest prep time to not only craft a killer bifold display fashioned with reclaimed mahogany laid in a chevron pattern and repurposed from a Princeton home, but also to fashion a sign for greg molyneux photography. Dude actually took the time to superimpose the font of my website header by way of a projector onto a piece of wood so as to get the typography just right. Ben was also kind enough to build a crate for my 12″ x 18″ matted prints, while donating an old drawer for my 8″ x 12″ matted prints. Oh, and some old green crates to support them on. He also made one hell of an event neighbor. Thanks Ben!
As Ben was toiling away tending to my many woodworking needs—which were massive considering going into this I had no display whatsoever—Jennifer Carr was tireless in helping me mat and wrap 67 prints. 67 prints! From 17 different source photographs I ordered 34 smaller 8″ x 12″ prints to be set in a 2″ mat to go along with 34 other 12″ x 18″ prints which we set in a 3″ mat. One print was sacrificed in our quest to settle on a workflow, but after that progress was good albeit slow. Powered by 90s playlists two long nights were spent toiling deep into the small hours of the morning measuring gluing, matting, signing, bagging, and tagging. However, Jen's work didn't stop there: Through it all she offered one great idea after another, helped lay out my booth, painted a box for my 4″ x 6″ postcards, later hung them with care, wrote up some chalkboard signage, and expertly peddled my wares to event-goers all day long at the Festival. Oh, and she was pretty great at wrapping items, too. If you saw those improvised hemp bag handles you know what I'm talking about. I cannot say it enough: without Ben and Jen none of this would have happened.
Next I want to thank each and every one of you who came by my tent. Whether to look from afar, to chat, to peruse, and of course, those who were generous enough to buy. You are all appreciated, and your feedback and kind words are invaluable. Anecdotally I definitely need some more metal prints as Ruinous Splendor printed on mounted aluminum was the real talk of the day. This kind of real life market research is invaluable, you guys. Thank you.
My fellow Makers—you're next. Even though I nary had a moment to network and give your work the proper attention it deserves, without the quality and passion for your craft our event would not have had the unbelievable public reception it received. Your talent and dedication to the arts, our community, and the betterment of our society is an inspiration. I am blessed to be among your ranks. Thank you.
Lastly—The MakeShift Union—the unbelievably dedicated and tireless women behind it all. Our masters behind the curtain pulling all the right strings to execute such a specific, well articulated vision, and to bring it to life while working through well over a hundred disparate Makers. Think of the logistics required for this, folks. This is organizational mastery and I am beyond impressed by your leadership and purpose. You've given us all an unbelievable platform that needs adjectives my vocabulary certainly lacks. Dani, Erin, and Jeannine—you are incredible. Thank you.
I cannot wait for next year, and you can't either!