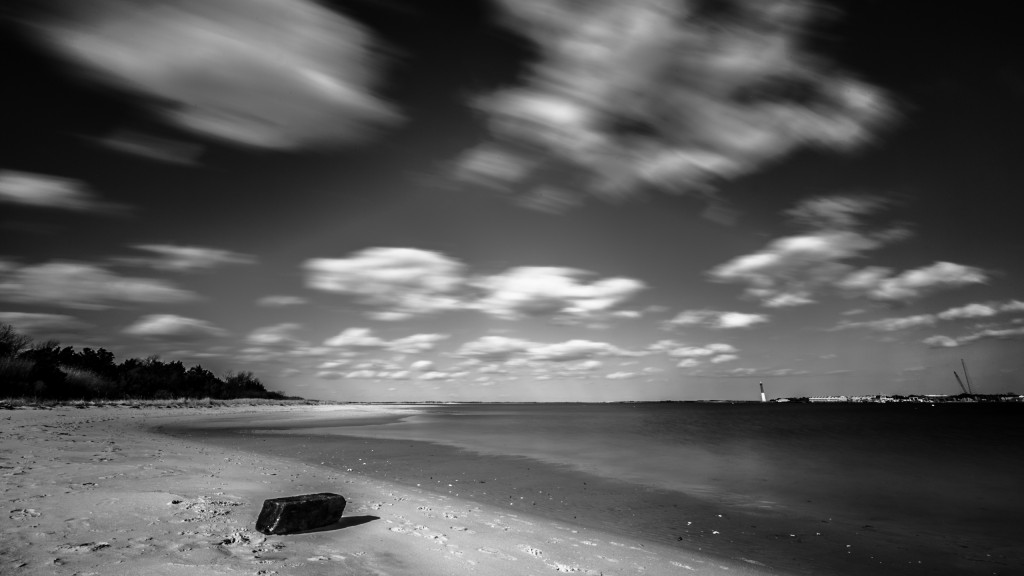 My buddy Jon and I had some time to kill and set out for some photo-exploring. Initially targeting the Barnegat Lighthouse, we made way to Long Beach Island and turned north. Approaching our final destination we made a quick pit stop at an area Barnegat Light bay beach. Unremarkable on its own, that beach told us one thing: the wind was going to spoil any shooting out on the long jetty of the lighthouse inlet. Any exposed area would render shooting difficult at best.
Having never been before we turned our attention toward High Bar Harbor. A unique piece of land on the west end of Barnegat Light where we made for a cove that would shelter us from the whipping west wind.
Where we wound up was pay dirt. An area of protected beach that has an eastern face—featured here looking out to the lighthouse—that will be most excellent at sunrise; and a path leading to a western exposure looking out to the Barnegat Bay to the rear. Morning, noon, and night, this spot has loads of potential.
It was a bit earlier than I normally shoot, and as such the light was rather intense. I went with my ND filter and stopped all the way down to f/22. I seldom stop down this far unless it's for a very specific purpose—in this case it was to maximize my exposure time—slowing things down all the way to 40 seconds. Enough time to render sufficient cloud movement left to right.