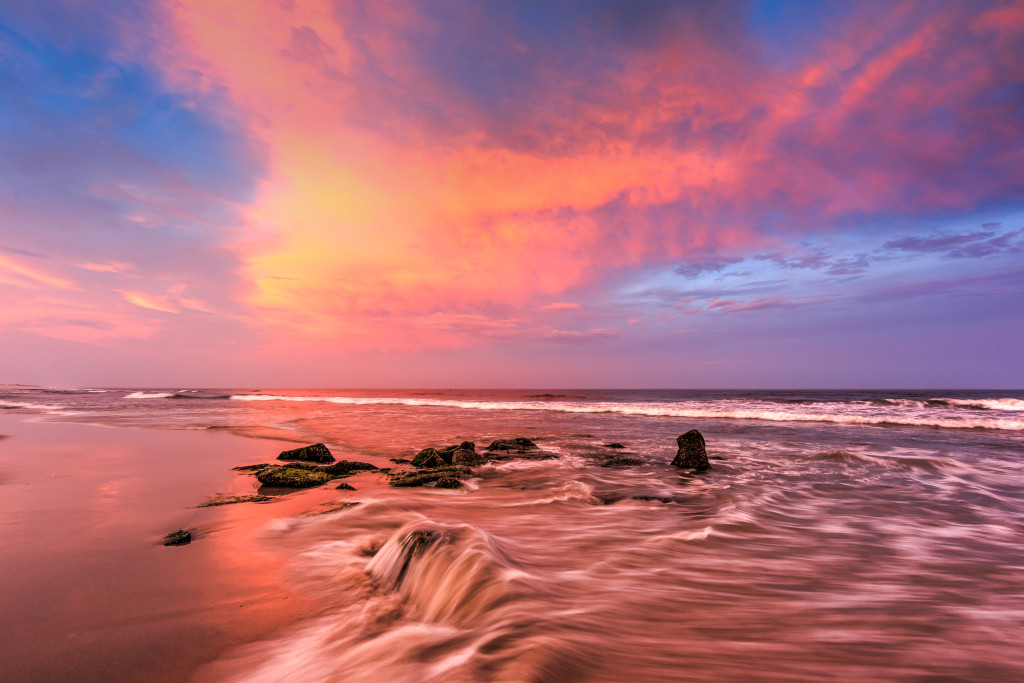 One minute your sitting in the back of a four-door Jeep groovin' on some tunes en route to the Chicken of the Egg to chow down on some wings, and the next minute your banging an emergency left somewhere in Spray Beach to make a mad dash to the beach for world class cloud ignition happening directly overhead. We had but minutes.
I started by haphazardly kicking my flip-flops mid-sprint in the general direction of where street meets beach; camera in right hand, tripod in left. Awestruck and drunk on light, I reflexively and moronically tossed my tripod aside right into the sand and began checking camera settings. Heart thumping, adrenal glands were quick to inform me this color—quite possibly the best I've ever seen—wasn't long for this world. After a few deep breaths and focus regained, I collected myself and my tripod and dusted out the sand as best I could understanding I was effectively out of time.
Once the tripod joints where workable I made a few pretty great shots from my first spot—right along the berm where dune fence marks the walkway. You can see an Instagram of that here. After about 5 minutes making shots I made for the beach itself. Jon Carr was already down there, busy making his own shots with his lovely wife taking in the wonder and the hijinks. By this point the ocean was reflecting the most potent yellow-orange light I've been fortunate enough to see. It was in a word otherwordly.
After scurrying down to join them, and as I was catching my breath, a quick glance northward along the beach revealed the secret; exposed jetty rock, perfectly arranged just waiting to be photographed. Unable to leave my muse in wait, I was off on a 300 yard sprint up the beach with Jon yelling encouragingly in the backround, "you can make it!" Here's where the problems could have undermined it all: first a happy couple were appropriately noting the humor in a guy sprinting up the beach with a camera mounted tripod being wielded more like Gandalf's staff in battle. The first dozen or so yards were great until my calf muscle strain decided to rear its ugly head; knotted up I bit the pain and kept jogging to these jetty rock. Throwing caution and my camera's welfare to the wind, there was no way I was missing this chance.
My excitement subsumed the pain, and with a few more deep hand stabilizing breaths, I dug my heels and the tripod in the wet sand, composed my frame, and made what is now my favorite landscape photograph to date. And where I almost always post bracketed photographs for my landscapes—consisting of usually 7 exposures—I only needed one here. The light was so beautifully balanced there was no need to go further and merge it with the six other photographs, each exposed one stop apart from the other.
What an amazing 15 minutes.
Interested in buying? Purchase