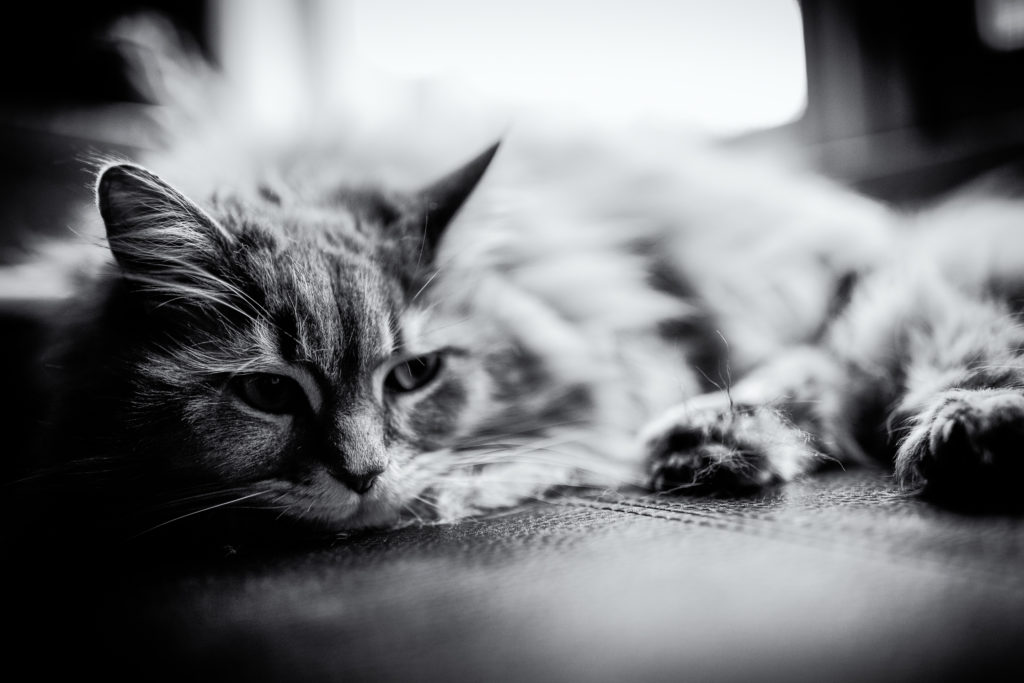 I present my new partner in crime. Daisy "Chain" Cat. She's a Maine Coon cat loaded down with fluff and stuff enveloping a pronounced air of dignity. When she's not traipsing to and fro from food bowl to litter box she's setting up shop on a comfy bit of furniture near you.
Daisy is my first pet. The first I can call my own. I grew up with cats and dogs—dogs mostly—but I never had one under my own care. Since my grandmother moved out of my house I have been living along full time since the summer of 2011. Guys, let me tell you, the years of talking to myself has grown stale.
Enter Daisy, my co-conspirator in indolence and shag floor lounging. She likes to hang and laughs at my poor jokes—OK, she doesn't laugh so much as offer disgusted blank stares. This black and white photo doesn't serve justice to her robust mane of hair. And it's not reserved to her mane, she's loaded with hair—everywhere.
Daisy comes to me as a middle-aged dowager feline. Rounding out her back nine I have welcomed her into my home. I will do my best to offer a relaxing, if not glorious retirement. She gets the peace and quiet—dumb jokes aside—she has long sought, and I get a buddy to disrupt my decade of solitude. As an added bonus I now have a ready-made photo subject. Though she has yet proved disposed to the task.