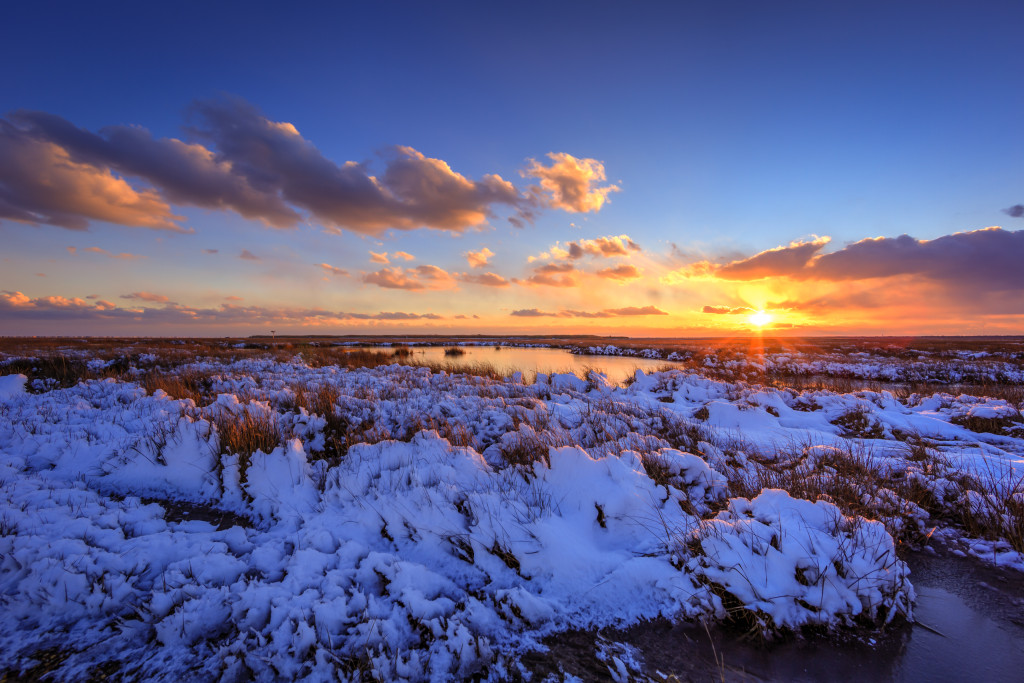 Anyone in the mid-Atlantic who even bothered to step foot outside today will find no shocking revelation in my declaration of today's cold. Sure it was below freezing all day, but holy cow did the biting cold and piercing winds level up out on the marsh of Cedar Run Dock Road. The wind ripping across a rapidly freezing marsh plane was eye watering and hand destroying. Not even some impromptu jumping jacks were making a difference. It was no fun touching the cold metal of my tripod, clumsily thumbing the extension latches to unfurl the legs. But these are of course the chilled hazards of the job.
In hindsight extending the tripod legs wasn't even necessary. This evening turned into one of those shoots where I wound up going with my very first set of brackets. This exposure was made with the camera and tripod low to the ground; tucked into the frozen marsh grass to draw the viewer into the scene. A big part of why I'm posting this shot is because it's the only set of brackets that still had enough sunlight to catch the pink glow painting the frozen edge of the marsh grass. Thus bringing visual warmth to a scene that was otherwise and quite literally devoid of it. Those sunbeams didn't hurt, either.
Celebrating Two Years
Fun bit of housekeeping: this here website is celebrating its second birthday today. Since I first uploaded Beyond the Gray Sky two years ago I've added 240 photographs good for 232 posts. I'm beyond pleased with my small little home on the internet, and I hope you've enjoyed my modest contribution to what I hope is solid internet content. Here's looking forward to a promising third year. Thank you.
Interested in buying? Purchase