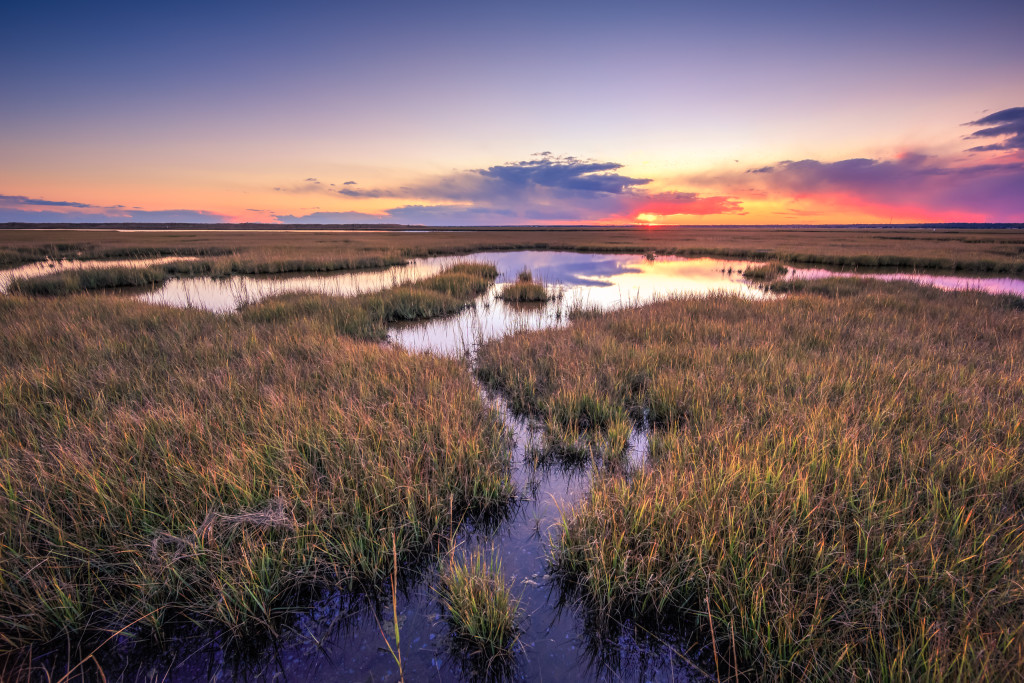 I never thought pictures would happen yesterday. With Zombie Outbreak Build Day as the clear priority I put little thought into being able to do both. But thanks to fortuitous timing, some promising clouds, and the good sense (all luck) to actually pack my camera gear, I was able to travel direct from the Joseph A. Citta Scout Reservation—home to this weekend's haunt—to my regular Dock Road stomping grounds. I had little time or desire to go elsewhere. In spite of feeling my age thanks to a good day of hard work, a rare moment of ambition settled upon me, prying me away from the Sirens' call of a hot shower and comfortable couch. Not sure what was happening, pictures it was!
Arriving with the sun nearly down my shot choices were limited. And so necessity mandate I line up where I had done many times before. Only this time I threw in a few compositional wrinkles: first, though less rare than what comes next, I extended the tripod to full height—typically being a low to the ground shooter; second I framed up a shot with the lower 2/3 occupying the lion-share of the frame, leaving the upper 1/3 for the sky alone. For those more familiar with my landscape work you'll usually see no less than 1/2 the image being sky. None of this is to say I don't appreciate the ratio of last night's shot, it's just that I'm not very good at it. I feel the same about vertically oriented photographs. Whereas my buddy and fellow south Jersey landscape photographer, Ben Wurst, excels in these areas.
That's all just a bunch of words to say that while peaking outside ye olde comfort zone yesterday, I managed to produce a solid result. The elevated 2/3 angle brings a perspective to the marsh I've struggled to extract. This vantage allows the viewer to better understand the depth and interconnectedness that endear New Jersey's marshes to many—humans and birds alike.
And finally a note about this website: this marks post number 200 since launch in January 2014. Woohoo! Obligatory round number dance.