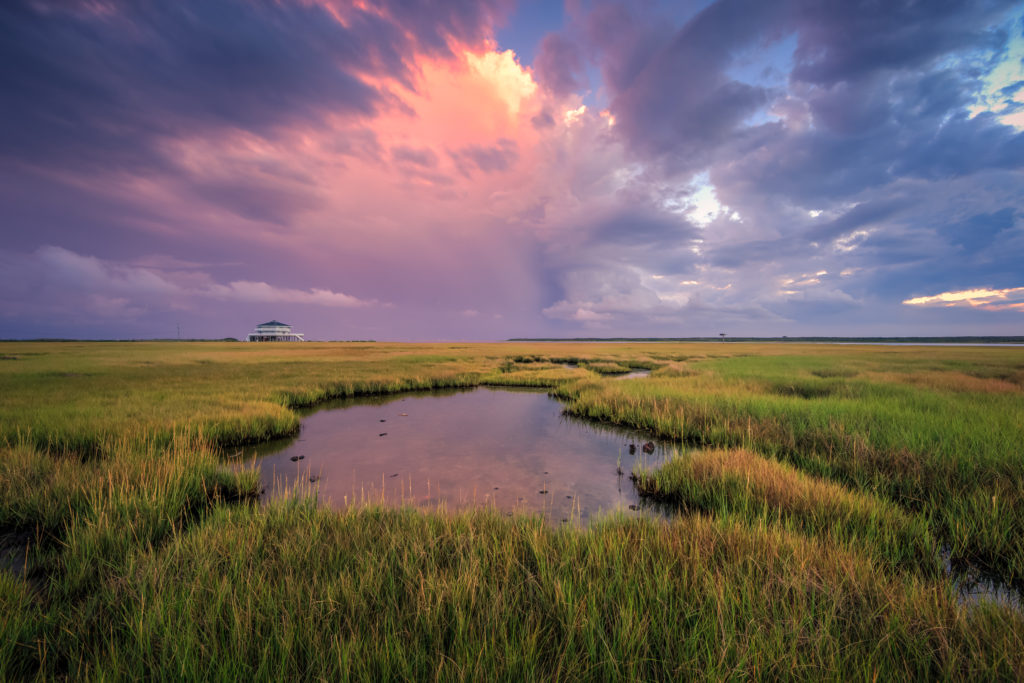 The calendar has flipped. September is here and with it meteorological fall. You see for meteorologists—of which I am not—the seasons align a bit different from the astronomical seasons of which we're all quite familiar. Among mets winter runs December 1–February 28; spring occurs March 1–May 30; summer spans June 1—August 31; with fall happening September 1–November 30 on the calendar. So in some circles we've come to the fall season—if only technically. Yesterday on the Cedar Run Dock Road marsh evidence of the fall transition was all over the place—seabirds in lesser numbers, our sun setting much earlier, and perhaps most obvious to me, an increase in yellows and browns festooned over marshland that grows more dormant by the day.
For the landscape photographer the palette of early fall colors integrated in the marsh grass creates opportunity for visually appealing images full of depth and contrast. Things are even better when you have an ideally positioned cumulus cloud in the sky illuminated in rich pastels of the setting sun. Better still is when it aligns just so as to reflect pink and purple hues in a well positioned tide pool. It may not be a seven letter Scrabble worthy triple word score that has a 'z' in it, but hey, it wracks up a few points on an intangible scorecard somewhere.
While we're on the topic of transition our weather along the coastal Mid-Atlantic is about to take a serious turn. The remnants of Hurricane Hermine are now moving through eastern North Carolina (as of 3:00 p.m. EDT on 9/2/2016) where it will eventually eject out over the relatively warm water of the Atlantic Ocean. From there forecast models continue to look worse and worse for my area—southern coastal New Jersey. As this storm slides northeast over water plenty warm enough to reignite storm growth allowing a transition back to a warm core system, Hermine  may again return to hurricane status as it eyes up our vulnerable shoreline. My concern is growing by the hour, and for folks living on the water please stay vigilant and heed any and all warnings and emergency response team recommendations. I'm sure I'll have more on this in the coming days. Suffice to say the marsh you see above, and have seen so many times in my photographs, will be under feet of water as Hermine pounds the region with days of potentially dangerous storm surge.
Interested in buying? Purchase