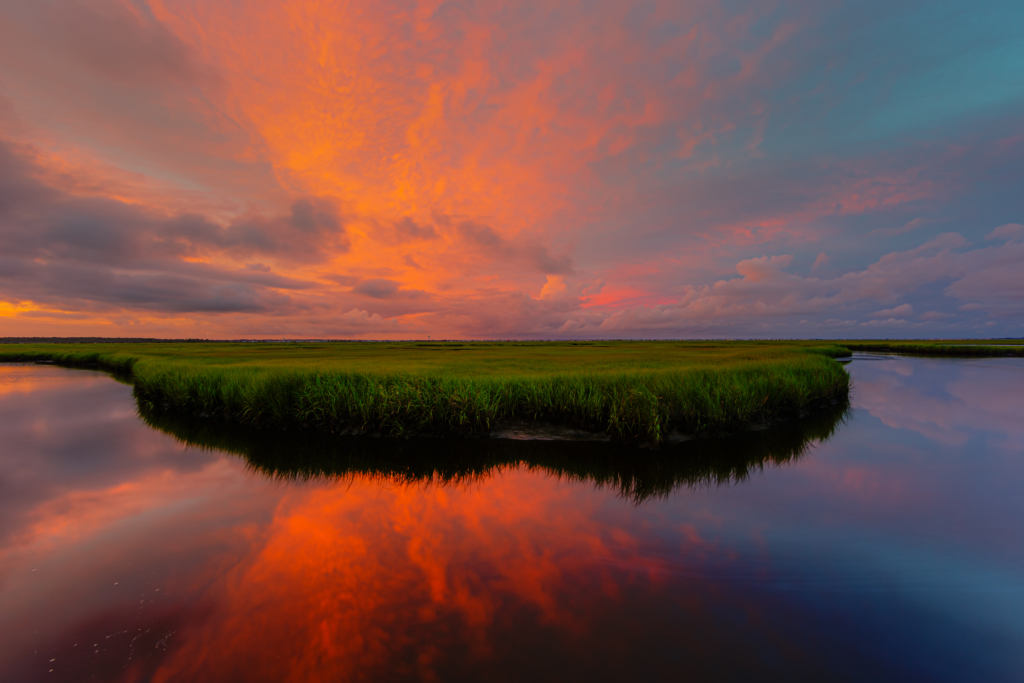 It is no secret I'm on team Winter Sunset™, but my goodness summer is bringing it this year. 2020 is, well, you know, but at least it's allowed us big time heat and humidity, comets, and sky fires. Right! Right? Sunset at the salt marsh has delivered big time the past few months; and that's with me missing several stellar sunsets and thunderstorms. Sunsets come in bunches and summer 2020 stands testament.
A little inside baseball: The color in this photograph is potent. Storm clouds breaking and intense coloration running up the high level mammatus clouds. An 'X' pattern sends deep pastel hues in four diagonal directions. Bisected latitudinally, deep green salt marsh cuts across.
When I make my landscapes I begin with seven bracketed exposures, each one stop apart. Running -3, -2, -1, 0, +1, +2, +3. After migrating to Lightroom I pop the seven brackets into Photomatix to merge them into one image file. Then bang, back into Lightroom. From there edits happen quick—delivering a photograph ready for showtime. Well this little buddy took some wrangling. There was so much color to reign in. After over an hour of jostling I'm satisfied; deep, intense, and smoldering.
Let's keep this set rolling and catch another one tomorrow?
Interested in buying? Purchase