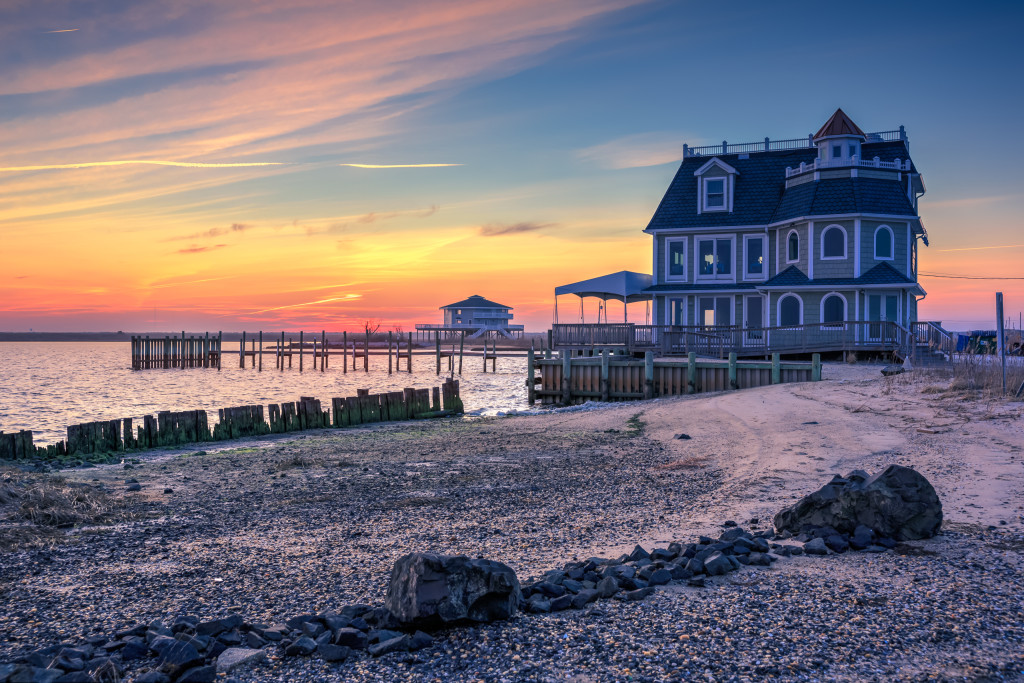 This shot? Again? Really? If you're thinking we've been here before you're certainly right. In an effort to get comfortable shooting landscapes at a 35mm focal length, last night I returned—if not in triumph, then in repetition—to the familiar stomping grounds of Antoinetta's Restaurant. The logic was twofold: 1) I was short on time leaving Dock Road as one of few sunset options, and 2) if you're testing out the landscape prowess of a new lens it's probably best to benchmark from a location and frame you've successfully photographed before. Having made some winners from this spot in the past, it made as much good sense as any.
Having made my first set of brackets fixed atop a tripod using manual focus, my initial thoughts of the 35mm wide angle in comparison to its 14mm ultra wide angle focal length counterpart are as follows: (For referenced I've included a similarly framed shot of Antoinetta's photographed at 14mm below.)
Staring down the 35mm makes you appreciate just how remarkably wide a 14mm focal length is—I'm roughly in the same spot as in the 14mm rendition below, yet you get the sense I'm substantially closer in the photo above. It's a significantly tighter frame.
With a tighter focal length, though still technically wide angle, the 35mm creates less distortion in the perspective. You'll notice the restaurant (pictured top right) has straighter, less angled lines—particularly obvious along the roof. The perspective moving the eye toward the vanishing point is far less extreme than at 14mm.
For a first pass the color and sharpness seem pretty good. At this point I am fully confident with dialing in manual focus on my 14mm. To such a degree I don't even check to ensure I'm dialed in. I simply need to look at the position of the focus ring. It's going to take some time with the 35mm, but through early testing the 35mm is proving plenty sharp.
Roughly three weeks in, and I am satisfied with my latest gear acquisition thus far. Still a work in progress and despite being another prime lens, the 35mm focal length is proving its versatility.
Interested in buying? Purchase
Interested in buying? Purchase